Honestly, you probably couldn't think that we could eat anymore, but you'd be wrong. The first thing we did on day 3 was to eat breakfast with Mickey and friends at
Chef Mickey's
. This is a giant breakfast buffet in the Contemporary Hotel with anything and everything your heart could desire. And I heart me a breakfast buffet. I LOVE breakfast, but I never eat it. Especially not with cheese infested hash browns and unlimited bacon.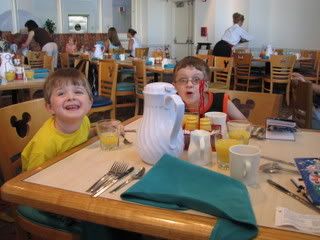 We're Hungry, We're Hungry!
Again, I made this reservation 100 days before our trip and informed them about the allergies. When we sat down we let our server know that the Little Man had allergies and she informed the chef, Chef Deb, who came out to speak to us. Chef Deb went over everything on the buffet that would be safe for the Little Man. I let Deb know that having him eat off the buffet was outside of my comfort zone due to cross contamination and she said she would bring his food out straight from the kitchen. She also said that she would make him special gluten free, egg free, dairy free, nut free pancakes.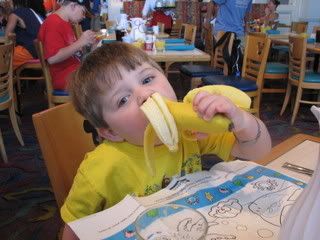 The Little Man couldn't wait so he's chowing down already.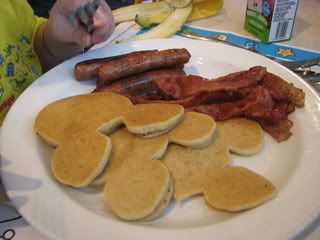 His safe breakfast. He could have had home fried potatoes too but he doesn't eat those so I didn't want to waste them.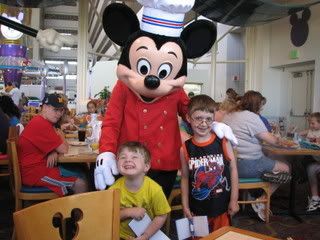 More Mickey. You can never have too much Mickey.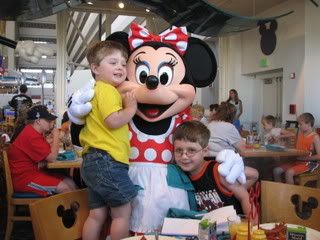 And Minnie. I think the Little Man has a secret crush on Minnie.
Pluto being silly. I have pictures of Goofy too, but how many character pictures can I post?
Well, at least one more of Donald. I haven't posted a Donald picture yet.
The Little Man didn't eat his Mickey pancakes, because the Little Man doesn't eat normal food, so we had to have Chef Deb bring out more bacon from the kitchen. I swear he ate a pound of bacon and 3 banana's for breakfast.
Then it was off for more riding. We started back at the Magic Kingdom to finish some things we didn't get to the day before. We first went to the Swiss Family Robinson Tree House, then the Tiki Birds and then rode Aladin's magic carpets.
The Little Man and me on the magic carpet ride.
We rode a few more things in the Magic Kingdom, and then it was off to Hollywood Studios.
The Older Boy is MAJORLY into Indiana Jones right now (although he's only seen one of the movies and it was on USA Network where it was scaled down some. I think he's too young yet.), so our first stop of course was the Indiana Jones stunt show. Older Boy was in total heaven.
His eyes were as big as saucers watching Harrison Ford's stunt double on stage.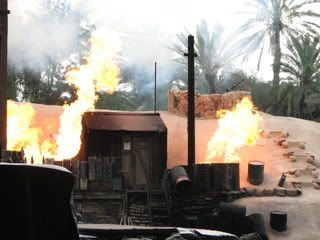 It really was cool. I have tons of pictures, but I'll spare you.
Then we stopped at the Indiana Jones store. I was a little nervous that Older Boy would want the Indiana Jones whip and yes, it was a real one, but he and the Little Man only wanted Indiana Jones Lego's so we were safe there. Both Grandparent's had given them money to buy something so this is where they used it. The Little Man had some left over to purchase his hero later on.
Then off to see the Little Man's hero.
Lightening McQueen! Oh the Little Man was so excited. They wouldn't let us get our picture taken with him, because they said "the line was too long, so we'd have to come back", but the Little Man was just happy to be near him. We are now the proud owners of a stuffed Lightening McQueen.
Then off to see last years hero.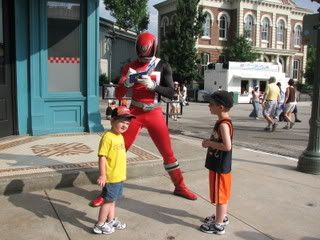 The Red Power Ranger.
He's sort of fallen out of favor, but both boys were still excited to see him. The Little Man was showing him his "moves" but I don't think the Ranger was impressed.
We rode quite a few things and I have to say that the Star Wars ride was awesome.
We skipped lunch because of our giant breakfast, but dinner couldn't be skipped. So off to the
ABC Commissary
. They have a
DEDICATED FRYER
for French fries, oh yes they do.
We went through the whole spiel about the food allergies and the manager came over and we ordered him REAL French fries and a hamburger on a gluten free bun. He was in heaven! I had to prompt the manager a bit, but this place was worth going to for the dedicated fryer.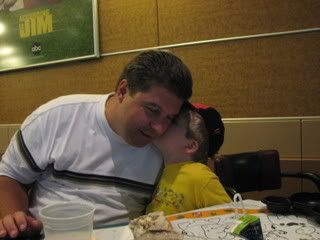 A happy Little Guy!
Then off the hotel to get some sleep after our busy day.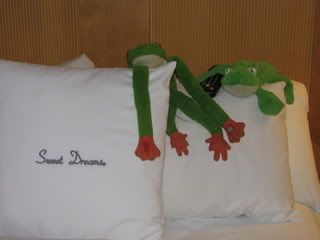 Tomorrow, Animal Kingdom.