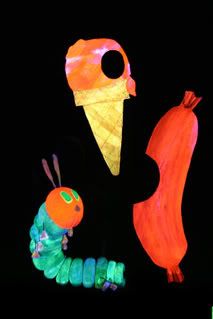 The Little Man's school had a field trip today. We took the children to the theatre (yes the actual theatre) to see the
The Mermaid Theatre of Nova Scotia
preform a production of Eric Carle's work of
The Very Hungry Caterpillar
,along with the Mixed-up Chameleon and Little Cloud. It was a really cute performance and the Little Man did a lot better than I expected. The performance was an hour long, and he only started asking "Is it over yet?" 15 minutes before the actual ending. Of course he was hungry and thirsty during the show. It's a good thing they let you eat in the theatre or I don't think we would have made it through the whole thing.
The
Mermaid Theatre Company
really did a wonderful job and if the production comes to a theatre near you, I highly recommend taking your little ones. It's very colorful and they keep things moving. From what I saw, all of the kids enjoyed it and made it through the show. It's a great way to introduce children to the arts. There was a brief question and answer period afterwards where the puppet masters came out on stage and quickly went through a few "how'd they do that" things.
You can watch a brief video showing a quick clip
Here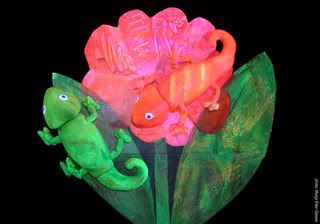 (All photos by Margo E. Gesser
)