(You're all singing that song now aren't you - plop plop, fizz fizz,.... you know the rest, sing along now - or am I dating myself?)
I met with the Little Man's teacher and the Director of the preschool yesterday. They met with me for over an hour and we went over my carefully typed up sheet of information line by line and then had a question and answer period. I was nervous, but I felt very organized. I think I shocked them when I starting talking about "safe art supplies". They didn't realize that there were art supplies out there that wouldn't be safe. But oh yes, allergens hide in many, many places. Take paint for example. Not all paint is wheat or egg free. So to make it easy they've agreed to use only
Crayola
products (all Crayola products are safe, except for Crayola dough). They won't use paste, but only Elmer's glue sticks and they'll make home made play dough with rice flour (they did this for us last year for the Mom and Tot class so they already have the recipe). They'll only use Colgate shaving cream and will contact me before any craft project that involves food so that I can either 1. supply a safe substitute for The Little Man or 2. supply a safe substitute for the class (i.e. instead of Cheerios supply the class with
Perky O's
). No wheat flour of any kind will be used in class and the entire school with be peanut/ tree nut free this year since every class has a child with a nut allergy (I did not ask for this, this was their decision before I showed up).
The Little Man will have his safe snack box and he will only eat snacks that are brought from home (see incredibly exciting pictures for examples).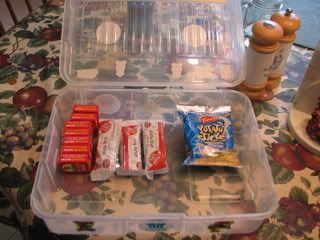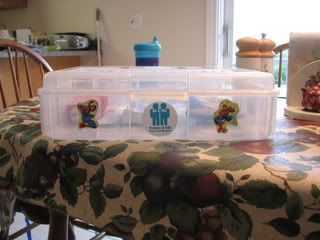 They will supply me with a list of birthdays so I can supply a safe cupcake for him on days the other children will celebrate birthdays. He will sit at the head of the table for snacks and the Aid will sit next to him to make sure there is no sharing of snacks. The teacher will serve the Little Man first so his snacks will not be cross contaminated.
The EPI pen will be kept with the Little Man at all times and will be transported with him as he moves from room to room. Everyone has been trained on the use of the EPI pen and what signs to look for in case of a reaction (an emergency action plan is in place). His teacher is also willing to take one of my expired EPI's and use it on an orange so she can see how the actual EPI Pen works vs. the trainer.
I gave them my
FAAN
book and they are going to get safe Popsicles for the Little Man for the Ice cream Social that they have right before school starts.
They really seemed to care about making sure the Little Man is safe and they really seemed to care about putting my mind at ease. I also wanted them to know that my goal is not only to keep my child safe, but to make them feel comfortable teaching my child. I know that they must feel a certain amount of stress having a child with so many allergies and I want both of our experiences to be positive ones.
No plan is full proof. I'm still stressed about sending him to school and I may still sit in the parking lot for the first week or two, but at this point, I think I've done all I can do. The only thing left to do is to pray.